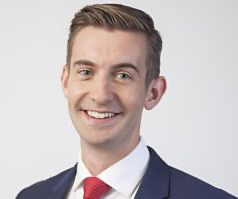 HAPPY BIRTHDAY!
May 14, 1981
BIRTHPLACE
Burnley, Lancashire
Other Information
| | |
| --- | --- |
| Occupation | Journalist and Presenter |
| Years Active | 1999- present |
| Nationality | British |
| Education | University of Wales, Cardiff |
| Spouses | Andrew Roche |
About
Ben Thompson is a journalist and presenter for BBC News, based in London.
Career
Ben Thompson joined the BBC in 1999, working in the Business and Economics Unit at BBC Television Centre.
As a producer, Thompson worked on programs including BBC Breakfast, Business Today on BBC News 24, and World Business Report on BBC World News.
In 2008, Ben became the BBC's Middle East Business Correspondent. Based in Dubai in the United Arab Emirates, Ben traveled across the region reporting on stories including the Dubai Financial Crisis, the Arab Spring uprisings, and the growing tensions in Turkey and Syria.
Ben returned to the UK to become a Business Presenter for the BBC News Channel.
Ben Thompson later become BBC's New York Correspondent and covered the American election as well as daily reports from the trading floor of the New York Stock Exchange. His biggest story during his time in New York was the evacuation of New York City, and subsequent damage caused by Hurricane Sandy for which he provided continuous coverage across all BBC News outlets.
Between 2015 and 2019, Ben was the co-host of Business Live alongside Sally Bundock as well as anchoring business news updates on the BBC News Channel and BBC World News.
Between 2011 and 2021, Ben was the Business Presenter for BBC Breakfast regularly traveling around the country and interviewing business leaders and workers, both on location and in the studio.
Ben stood down from this role at the end of 2021 and now is one of the main anchors of the program.
Education
Ben Thompson graduated from the University of Wales, Cardiff in 2003 before completing a Postgraduate Diploma in Broadcast Journalism.
He was selected as a BBC Trainee, on the BBC News Sponsorship Scheme in 2004.
Personal Life
Ben Thompson was born in 1981 and grew up in Burnley, Lancashire. He lives in London with his partner.
In 2017, Ben appeared on the cover of Attitude Magazine and in an interview discussed his personal life, career, and life as a television journalist.
In 2019, Ben was one of the journalists to criticize the BBC for debating the 'morality' of LGBT lessons in schools on the Question Time program.
Total: 281 Views