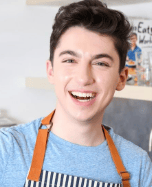 HAPPY BIRTHDAY!
April 25, 2002
BIRTHPLACE
New Jersey, USA
Other Information
Occupation
Celebrity Chef, Author, TV personality, and Entrepreneur
Years Active
2014-present
Nationality
American
Citizenship
United States
Notable Work
Eitan Eats the World: New Comfort Classics to Cook Right Now
Organization
Founded
Eitan Productions
Education
Columbia University
Net Worth
$1.5 million
Religion
Judaism
About
American celebrity chef Eitan Bernath rose his fame as an author, social media influencer, TV personality, and entrepreneur. He has also listed Forbes under 30 in Food & Drink. His fan following crossed seven million on social media platforms. Currently, Eitan runs his own company Eitan Productions.
Before Fame
Besides gaining popularity on social media, he also massive fanbase profile on his TikTok account @eitan. Where Eitan made his recipe videos, showing various tips & tricks of food-making.
Career
Eitan first appeared on television when he participated in Chopped at the age of 12. After gathering fans on social sites, he was signed to talent agency William Morris Endeavor in May 2020. Further, Eitan collaborated with several agencies, including food publishing magazines.
Family Life
Eitan Bernath was born on April 25, 2002, in Teaneck, New Jersey, USA. He was raised with her parents Sabrina and Jason Bernath. His brother is named Yoni. Eitan enrolls at Columbia University in the fall of 2022.
Total: 1524 Views