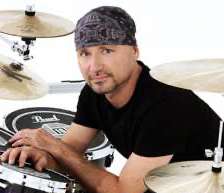 HAPPY BIRTHDAY!
October 4, 1968
BIRTHPLACE
Landshut, Germany
Other Information
| | |
| --- | --- |
| Occupation | Drummer |
| Nationality | Germany |
| Citizenship | Germany |
| Genres | Progressive metal |
| Siblings | Oliver Holzwarth |
About
Alex Holzwarth was born on 4 October 1968 in Landshut, Germany. He is professional drummer. He is also drum teacher at the Drummer's Focus München, Bavaria, Germany.
Career
Alex Holzwarth has played drums with artists such as Rhapsody of Fire, Sieges Even, Blind Guardian, Avantasia, Angra, Kamelot and many more. He's recorded many records and toured all over the world. Sharing stages with bands like Manowar, Journey, Emerson, Lake and Palmer and Yes where some of the biggest highlights in his musical career!
For more than two decades, Alex Holzwarth has been working as a professional, certified drum teacher at the European drum school institution, drummer's focus.
When He is not on tour or in the studio, his passion is to hold double-bass classes in Munich's Drummer's Focus. It's so inspiring for his to work with great drummers and to help them discover the "Ultra-Balance-Technik", which is just one part out of the "Double-Bass-First" workout concept developed since 20 years to be able to take the modern challenge and to learn how to play even better than programmed drums.
Total: 280 Views