Martinez sent love token to Jamal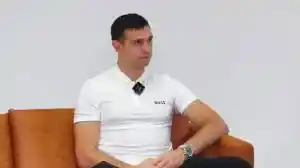 When Emiliano Martinez was on his way to Kolkata after a surprise visit to Dhaka, the Bangladesh football team was also there. Martinez is going, and Jamal's teams are coming.
Martinez's departure coincided with the Bangladesh national football team's return home after playing clean football in Bengaluru. After knowing this, Bangladesh footballers may want to meet Argentina's World Cup-winning goalkeeper. Jamal Bhuyan was also. He also tried to meet, but he did not able to meet with Martinez.
Because of social media, nothing is hidden in today's world. It was also nor either. A photo of Jamal Martinez standing next to his car has gone viral on Facebook.
Martinez got the news from Shatdra Dutta after moving to Kolkata. Hundreds of people learned the story from Facebook. Shatdra said he was a little upset to know.
Shatdra Dutta has therefore taken an alternative initiative to make Jamal's mind better. He said matter to Martinez and world cup winning goalkeeper also little bit upsate after hearing the news and left a jersey with an autograph for Jamal. It's not just an autograph, it also has a congratulatory message for Jamal. Jamal is not only upset about not being able to meet him, but he may also feel a little humiliated. "Cheers, Jamal," Emiliano Martinez wrote before signing an autograph on the jersey. That jersey is now with Shatdra Dutta and he wants to send it to Jamal.