IShowSpeed finally meets Ronaldo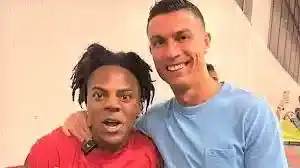 YouTube livestreamer
IShowSpeed
has rose his fame as one of the platform's top content creators due to his dynamic personality and sense of humor. Despite still being in high school, he climbed to the pinnacle of success on YouTube. Following his recent graduation, IShowSpeed received a gift that surpassed all expectations. After years of longing to cross paths with the football legend Cristiano Ronaldo, he finally had the opportunity when he was in a conversation with some of Ronaldo's family members.
Despite reaching a number of noteworthy milestones as one of the most well-known livestreamers on YouTube, this encounter with Ronaldo outdid them all and left a lasting impression on IShowSpeed's path.
The encounter between Speed and Ronaldo was a long-awaited moment filled with overwhelming excitement for both the streamer and his chat community.
Years of anticipation culminated in this moment which was caught on video.